#Thank you Sachin
Commit all your crimes when Sachin is batting. They will go unnoticed because even the Lord is watching. -A fan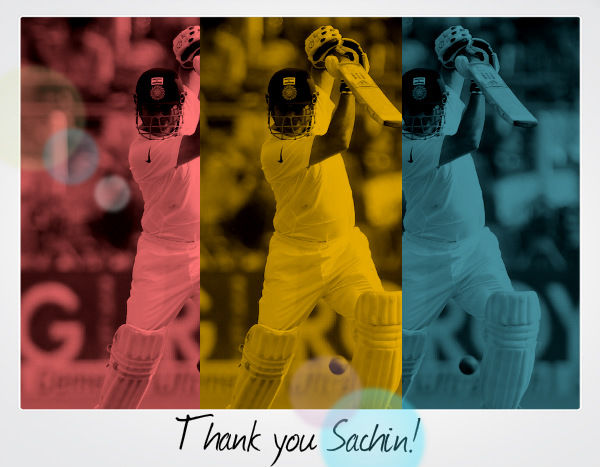 676693
The number of deliveries pinged down in the 663 international matches in which Tendulkar has played (including 7725 wides and 6371 no balls). Ravi Shastri can still recall, describe and analyze every single one of them if you ask him nicely. A total of 422218 runs have been scored, and 12314 wickets have fallen. India have scored 210017 runs for 5958 wickets off 53968.4 overs in Tendulkar's matches. India's opponents have scored 212201 for 6356 off 56464.1 overs.
There are 2 kind of batsmen in the world. One Sachin Tendulkar. Two all the others.
330
Sachin has politely applauded 330 hundreds by a total of 131 different opposition players (from Imran Khan in 1989 to Jonathan Trott in 2012). Sachin has fielded through 14 Ricky Ponting hundreds; Ponting has chewed his baggy green gum during 17 Tendulkar tons.
353
Hundreds scored by India in matches featuring Sachin. Tendulkar has scored 100 of them; Rohit Sharma's debut ton was the 252nd scored by Sachin's Indian team-mates (and Ashwin's the 253rd), and Rohit was the 38th team-mate whom Sachin has seen reach three figures for India. The first was Sanjay Manjrekar, who scored an unbeaten 113 in the second innings of Sachin's debut Test in Karachi in 1989. The team-mate whose centuries Sachin saluted most often was Rahul Dravid (42 hundreds when playing alongside Tendulkar); Dravid returned the favour 68 times.
100
The number of different bowlers who have rearranged Tendulkar's timbers in international cricket. He has been bowled out 123 times. Eighty one bowlers have castled him once; 15 have done so twice; and Pollock, Abdul Razzaq, Donald and Kulasekera have bowled Sachin out on a world-record three occasions. Shane Warne never bowled Sachin out in internationals (and only dismissed him four times in 29 matches), putting him behind, among others, Namibia's Rudi van Vuuren, Irishman Roger Whelan and Joseph Angara of Kenya in the list of Bowlers Who Have Hit Tendulkar's Stumps Most Often In International Cricket.
7
The number of Test hundreds Tendulkar had scored by his 21st birthday. This, unsurprisingly, is a record. West Indian legend George Headley scored four of his ten Test hundreds before his 21st. Only one Indian player since Sachin has scored a Test hundred prior to turning 21. Any guesses who that was? Any? Write it down. Seal it in an envelope. Post it to yourself. If you receive a mysterious piece of post containing a piece of paper with the name "Ajay Ratra" scrawled on it in your own handwriting, you have won yourself a statistical pat on the back and a complimentary five-minute break from whatever you are doing. Ratra did not pass 50 ever again in international cricket.
1
The number of Indians younger than Tendulkar who scored international hundreds in the second millennium. (If you count the second millennium as ending at the end of 1999, rather than at the end of 2000.) (Which, based on the respective size of the parties on December 31, 1999 and December 31, 2000, you should.) The only Indian younger than Sachin to score a hundred for India in a year beginning with "1" was languid leftie Sadagoppan Ramesh, born in 1975, who hit two Test hundreds in 1999 - almost ten years after Sachin's debut.
1894
ODI runs scored by Tendulkar in 1998, the record ODI total by a batsman in a year. In his 33 ODI innings, he scored nine centuries (also a record), averaged 65.3, and had a strike rate of 102. The next most ODI runs scored in a year with a strike rate of more than a run a ball is Jayasuriya's 1178 off 1037 balls, in 1997. The rest of the Indian top four in 1998 ODIs averaged 37.8, with a strike rate of 70.
493
The most runs scored by Tendulkar in a Test series (in Australia, in 2007-08). This is only the ninth highest series aggregate by an Indian during his career span. Dravid (three times), Laxman (twice), Manjrekar, Sehwag and Ganguly have all recorded higher series aggregates. Also: the number of tracer bullets fired by Ravi Shastri at a boundary rope in a disused quarry during empirical research for his commentary catchphrases.
52
The number of international hundreds hit by Tendulkar in the seven years between January 1996 and December 2002 (23 in Tests, 29 in ODIs). The next most hundreds scored by a player in that time was 28, by Sourav Ganguly. Also: the number of Tests played by Don Bradman in his 20-year Australia career; the age of record-breakingly old Test cricketer Wilfred Rhodes when he played his final match for England in 1930; the number of fake beards WG Grace owned in case one of his team-mates shaved his trademark megawhiskers off as a prank.
119
The runs scored by Tendulkar in his maiden hundred for India, an unbeaten Manchester match-saver in 1990. Also: his place in the chart of Most International Wickets Taken. His 200 wickets (45 in Tests, 154 in ODIs and one in his solitary T20 international) put him two scalps ahead of 120th-placed Ashley Giles, widely regarded by leading cricketicians and social historians as "The English Tendulkar".
17832
The number of runs in boundaries that Tendulkar has scored for India - 4062 fours and 264 sixes. (It might, in fact, be 17836. Or 17840. The scorecard for a Test innings of 11 in 92 minutes against Sri Lanka in November 1990 does not record boundaries hit.) (Please do not let that informational microvoid sully your enjoyment of this stat. Or your day.) Ponting is in a distant second place in term of both fours hit (2781) and total boundary runs in all international cricket (12600).
1992
The year in which Sachin scored Test centuries number 2 (148* in Sydney), 3 (114 in Perth) and 4 (111 in Johannesburg). Also the total combined Test wickets taken by Bob Willis, Jeff Thomson, Ian Botham, Malcolm Marshall and Shane Warne. Tendulkar has taken more ODI five-wicket hauls than all of them put together. Warne was the only one of the five to take even one five-fer in ODIs; Sachin took two.
396
The number of times in international cricket that Tendulkar has raised his bat to salute the crowd for a half-century (263 times), century (100 times), 150 (25 times) or a double century (8 times). Also the number of products Shah Rukh Khan personally endorses in the course of the average conversation.
27
Sachin was dismissed in the 90s on 27 occasions - a record ten times in Tests, an even more record 17 in ODIs. He succumbed to the nervous nineties on ten of the 61 occasions he reached 90 (16.4%, slightly below the overall Test average of 17.6%), and on 17 of 66 occasions in ODIs (25.7%, above the overall average of 21.8%).
3
The number of major resignations in the Czechoslovakian government within a month of Tendulkar's debut in November 1989. The Prime Minister, President and General Secretary of the famously anti-Sachin Communist Party all flounced out of office (taking the entire ruling executive with them) in protest against the 16-year-old whizzkid's selection.
34
Notoriously trigger-happy Spanish football club Atlético Madrid have changed their coach 34 times during Tendulkar's international career. And Silvio Berlusconi has used 34 metric tonnes of fake tan since the Little Master first represented India.
38
Since Sachin made his international debut, 38 new member states have joined the United Nations. Nine of them collectively make a useful mnemonic to help you remember Sachin's surname: Tajikistan... Eritrea... Namibia... Democratic-People's-Republic-Of-Korea... Uzbekistan... Lithuania... Kyrgyzstan... Azerbaijan... Republic-of-Korea. You need never forget it again.
63.4
Between January 1993 and November 2002, Tendulkar averaged a planet-leading, galaxy-topping 63.4 in 82 Tests. His nearest challengers, of the 236 players who played more than ten Tests, were Gilchrist (58.5), Steve Waugh (56.2) and Dravid (54.2).
8227
Sachin added 8227 runs in 176 partnerships with Sourav Ganguly in ODIs - both record figures, and 8227 more runs than the little master added in his one ODI partnership with Wasim Jaffer.
45
There is a 45-year difference in age between the oldest man Tendulkar has played international cricket against (Zimbabwe's John Traicos, born in 1947, the same age as knackered old Rolling Stone Ronnie Wood), and the youngest (Kraigg Brathwaite of West Indies, born 1992, the same age as twerking pop starlet and wannabe basketcase Miley Cyrus).
41113
Tendulkar has batted for 41113 minutes in Tests - that's 28 days, 13 hours, 13 minutes, or the average time Silvio Berlusconi spends thinking about sex every month. Only Dravid (30 days, 15 hours, 52 minutes) has batted for longer in Tests.
982
Tendulkar has played with or against 982 different international cricketers during his career for India - the equivalent of 245.5 Beatles tribute bands, or almost 82 juries, or enough to fill both houses of the Indian parliament and have 192 cricketers left over to form an anti-corruption unit. He has had 140 Indian team-mates, and faced 842 opponents.
Credits
Stats from ANDY ZALTZMAN GETS ALL NUMERICAL ON TENDULKAR
\m/