Kathmandu As IT Destination
Kathmandu, the city of temples, also boasts of amazing IT experts and talents, and has great potential to become an IT solutions destination of choice. If nurtured well, IT industry could flourish and offer substantial help to solve unemployment to some extent.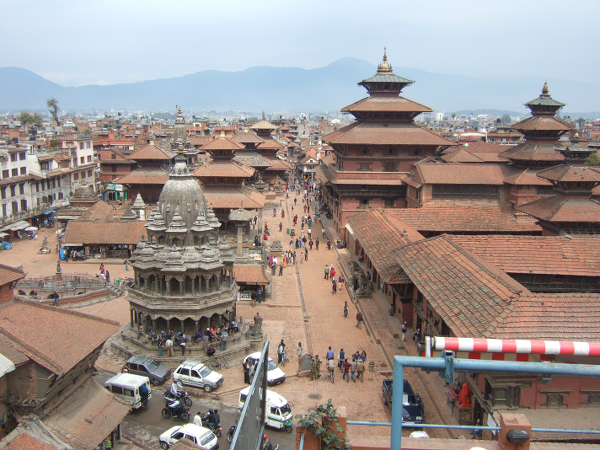 This article is in continuation of my previous weblog on my recent trip to Kathmandu. Main purpose of this visit was to unite with my friends and colleagues at Zyoba Labs, a software development firm we have started based out of Kathmandu, while I still work from Delhi, I can't wait to come and work from here in Kathmandu.
There's a general trend I observed for IT professionals. Engineering graduates. Software professionals from here generally are smart workers and know their trade pretty well. There are quite a few success stories and the city is definitely buzzing with budding entrepreneurs. Blame it on lack of ample opportunities or the work culture of the low scale pays, they seem to have developed general reluctance to jobs. Going freelance is quite a trend, acquiring projects from all across the globe, they have build a good reputation through their good work and commitment. This is a very commendable achievement. But job scene is changing with time, with few multi-national establishments, even local companies doing well, IT jobs are lucrative never the less. Kathmandu can easily become a favorite destination or a hub for offshore IT development.
With bright future in the IT market, local needs does look a bit overlooked. Agreed internet penetration is at very early stage, I don't see there has been enough effort or investments made to change this. Despite technology being available and accessible, there has hardly been any effort to put it to use to solve basic problems. It seems though, we have given up and learned to live with the way things are, however inefficient and un-managed. There are many ways technology can be put in use to solve basic necessities.
Online e-Commerce Store/Marketplace - to help promote online shopping culture
Success stories of thamel.com or muncha.com or even esewa.com.np is not surprising. These websites have existed from very beginning and have build a good user base over the years. But still, absence of online shopping culture or low trust level have not allowed the e-commerce efforts to take off. We could take a cue from global success stories like amazon.com or ebay.com or even the Indian startup flipkart.com. The websites are re-defined the way people feel about online shopping. We need to build a online store or a marketplace, which offers competitive prices - even offering goods at a price cheaper than physical stores. Key idea is to build user base through quality service, timely deliveries, buyer protection, easy returns.
This can become a reality only when the basic infrastructure is in place. Logistics needs to be well sorted out to smoothen rough edges in ensuring timely deliveries. Significant focus needs to go making online payments hassle free. Bank systems and online payment solutions need a fresh approach. The focus needs to shift from big profits to providing quality service and earning customer confidence.
Online Payment Solutions
This is most critical piece that is necessary to put all our e-commerce efforts in good shape. We should be able to offer hassle free online payment services to pay telephone bills, utility bills. Digital payments are more secure than physical handling of the cash. Making payments should be as easy as it can get, we need to have secure payment gateways in place that supports major payment instruments such as net banking, debit cards and credit cards. While it may take some time for digital currency or online cash wallets to exist, we need to get the basic structure in place. Most of the banks here do offer net banking services but there is dire need of smooth aggregators. If making payments is hassle free, more online e-commerce ventures would emerge. Shopping online should be just a matter of few clicks and timely deliveries to ensure peace of mind.
Online Bus/Flight Ticket Portals
Buses are most common mode of transportation here in Nepal. If you need to travel to different parts of the country, you are more than likely required to hop on bus. Booking bus tickets is still very inefficient and hasn't improved a bit with time. You have to call them up or visit their counters to get your bookings done. Even to check the bus fares you will need to call up the travel operators. Even the travel operators like Makalu or Agni co-ordinate over phone to offer the bus tickets. It surprises me that there has been nothing done to address this. It could become way efficient for both the travelers and the travel operators.
It can not get simpler than this, I should be able to book a ticket from anywhere with all the information regarding the trip available at my finger tips. But before this service becomes available to masses, the travel operators need to embrace technology and digitize their portals, offer trip details including fares and seat availability. It is a win win proposition for everyone. Bus operators will be able to sell tickets faster and travelers would be plan their trips with ease. All we need is a transparent solution, where every party involved benefits immensely.
Even for flight bookings, I am not too sure if we have option to compare the flights and purchase tickets in one place. I am not even sure if online flight bookings are being done, without the need of calling your travel agent to book a flight.
The travel space has huge opportunity to make a difference to the way people travel.
Power problems, a major hindrance
Nepal being second richest in terms of water resources globally, it saddens me to know that people are suffering a lot due to daily issues with power cuts. You can imagine the situation with a daily load shedding of 12 hours, not only it has affected the general living, but presents itself as a major hindrance to any development activity. While information technology could possibly not offer a solution to the problem, the concerned authority have to set up more electricity plants and offer a long term solution.
\m/