ACCEPTed. COMMITed. RESOLVEd. BOO-YAH!
A long standing Gnome bug was resolved by a man who not only loved the spirit of open source, but did it against many odds. Adrian Hands passed away from ALS. He was a true inspiration to many and an instant friend to most. He exuded peace and joy every minute. He will be missed but those who knew him will live with his spirit. He touched us all profoundly. Peace be yours forever.
His patch to Gnome will probably be used by hundreds of millions of people (starting next quarter) - he typed it using his knees in Morse code and died 3 days later.
The bug was closed posthumously.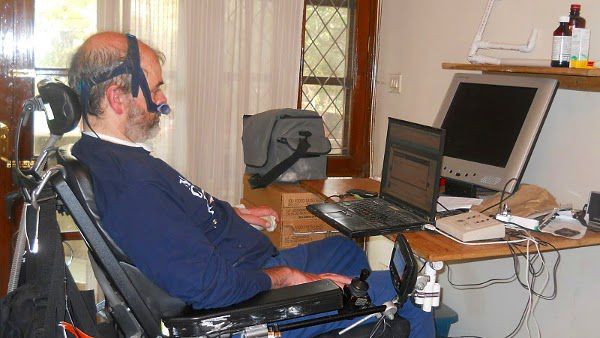 Excerpts from an email message by Ian Hands (2011-02-04 01:47:30 UTC)
I would like to extend my thanks to the gnome team/community for a great last moment with my dad.
Adrian Hands (my father) wrote the patch above to improve the usability of gnome for himself and others. You see my dad was suffering from ALS and his hands were so crippled he could no longer use a keyboard. Thus we used a Darci usb Morse code keyboard emulator to help him type. Even the Morse code device was a struggle as the sensitivity adjustment and positioning of the nice two paddled key would fall out of whack. I rigged up a PVC cage that wrapped around his knee and fixed remote switches to the cage so that he could use the remaining strength in his legs to operate the Darci Morse code device. He used this last bit of body movement to write this patch.
Here is a photo of him using it: Adrian Hands
My father passed away yesterday. I went back through my email to find our last correspondence (he was in India for treatment, and I live in Raleigh). I would like to share the email with you.
On Sun, Jan 30, 2011 at 12:16 PM, Adrian Hands wrote:
ACCEPTed COMMITed RESOLVEd BOO-YAH!

commit 0b209b1ff16e863e60a1d86413aa57c5fbde76b0 Author: Adrian Hands Date: Fri Dec 31 14:34:58 2010 +0100

Add Copy Image and Copy Path to clipboard functionality

Fixes bug 78514.

data/eog-ui.xml | 9 +++++++ src/eog-window.c | 63 ++++++++++++++++++++++++++++++++++++++++++++++++++++++ 2 files changed, 72 insertions(+), 0 deletions(-)
I have the coolest Dad in the world!
I am so glad that my last comment to my Dad was something like this.
Adrian Hands loved free software / open source. I do as well.
Thanks so much for the great software, and a new great memory. -Ian Page Hands
Really touching story, at the same time it feels wonderful to learn about such dedication to contribute. My sympathies for the immense loss with hope that inspires some of us to contribute in every way we can. Peace be yours forever.
\m/